+39 Charter
The passion for a job that is our life
Our yachts
Beneteau 57
2007 Beneteau 57
Caprice is a Beneteau 57, the No. 95 of a total production isolate 120 specimens.
The study Farr has drawn the lines, Franck Darnet oversaw the construction of the interior. The result is a boat with a length of 17.60 meters without compromise: the pure cruising and long journeys are the daily bread for Caprice. Lines drawn by Farr know classic, with the momentum of the bow and the stern reversed so pronounced that hides a scale-swimming platform that surely will be appreciated for its convenience. Caprice has 4 cabins, 3 for guests and one for the crew, each with private bath and air conditioning.
Length: 17.80m
Type: Sailboat
Fits 6 guests
Private bathroom
Get offer
Dynamique 62
1985 Dynamique 62
Designed by Philippe Briand, and originally built in France
She offers guest accommodation in 4 private cabins: 3 doubles, all are fully air conditioned and have their own en-suite bathroom facilities. With accommodation for up to 8 passengers on extended overnight cruising.
Length: 19m
Type: Sailboat
Fits 8 guests
Private bathroom
Get offer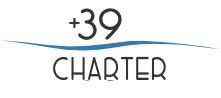 About Us
Here we should write about +39charter: who we are, where we are (Tuscany, Sardinia), why somebody should prefer us, specify how these are our boats, loved and cared about, that we sail them often. We should mention our expert, fun, nice, wonderful skipper
Our team
Our destinations