Antonio Russo
home is where the anchor drops
Our yachts
Bali 4.0
2018 Bali
CATAMARAN SAILING TOUR - CILENTO COAST
This Bali 4.0 is a catamaran produced by the Catana shipyard, renowned for its innovative cruise line. It stands out for its comfort, practicality and low draft and has spaces that are decidedly superior to those of its competitors in the same category.
The internal layout of the catamaran includes four double cabins for guests each with its own bathroom / shower and an additional cabin and bathroom for the skipper. Each cabin has numerous storage compartments, chest of drawers, wardrobe, fan and bedside lamp.
Between the two hulls there is a spacious galley equipped with a gas oven and a 272 liter American fridge, the same size as those we have in our apartments.
An innovative concept means that the dinette of the Bali 4.0 catamaran becomes a single large area with the rear cockpit thanks to the fully foldable closing hatch. This solution is present only on this type of catamaran. We also highlight the large L-shaped sofa and the kitchen peninsula, not present on previous models.

The external layout provides, unlike the other catamarans, a large space in the bow area with a sofa, two tables and a very large sundeck.
The bow cockpit is the flagship of this Bali 4.0 catamaran. Instead of the usual net found on other catamarans, Catana has designed a rigid cockpit that allows you to have an additional huge sundeck in front of the deckhouse.
Note the large retractable window that allows those in the bow cockpit to live in a single environment with those in the dinette, guaranteeing, when anchored in the bay, great airiness and views.
On the deckhouse, in addition to the helmsman's seat, located on the right side, we have two further seats and a very comfortable sundeck.
Finally, in the stern area, an additional space is created when the tender is in the water and the dashboard is folded towards the stern.
All of the above makes Bali the ideal catamaran for a sailing holiday dedicated to comfort and relaxation, offering guests unimaginable spaces on monohulls and minimizing annoying rolling.
Length: 12.19m
Type: Catamaran
Fits 8 guests
Private bathroom
Get offer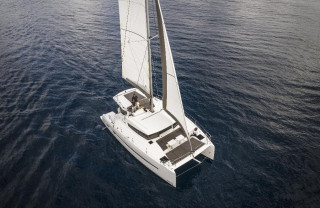 Our destinations