Clovis Yacht LLP
Clovis is not just a boat…
Our yachts
Monohull Cruising
1983 Aluminium Cruising Ketch
SAILING SINCE 1983
In 1983, the skilled hands and vigorous passion of carpenters and craftsmen in the French shipyard of Biot shaped what architect Dominique Presles had designed. It was the magnificent shape of this monohull, an 85 feet ketch rigged sail yacht.
Its aluminium core and high quality components combine technique and elegance in a unique product. A recent total refit, guided by the experience of over 30 years of sailing, has made it possible to maintain and enhance these important and unparalleled characteristics, and at the same time it conformed this sailing yacht to the latest standards of comfort and safety. we area high performance yacht offering an exciting sailing and a comfortable motor cruising to quickly reach the countless pearls of the Mediterranean Sea.
Length: 25.30m
Type: Sailboat
Fits 8 guests
Private bathroom
Get offer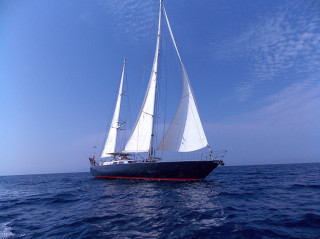 About Us
... it is also her crew that with love and passion has been navigating her for long while dedicating her care and attention throughout the year. They live together and respectfully explore the sea to discover its most intimate emotions and its hidden secrets.
The traveller aboard Clovis can feel the pleasure of sailing at sunset, enjoying starry nights in beautiful bays, waking up in front of a deserted beach and tasting fresh Mediterranean recipes.
This is the spirit of the Clovis holiday: to live experiences seemingly trivial though mind-expanding to find harmony with yourself, with your loved ones and with nature.
Our destinations