My Blue Cruise
My Blue Cruise is a flexible company providing unforgettable sailing experiences along the famous turquoise coast, which is regarded by many travel experts, to be one of the most beautiful coastlines in the world.
Our yachts
Lagoon 421
2014 Lagoon 421
The Lagoon 421 has spacious cabins and is for those who want the extra comfort
Suitable for four couples, two families and mixed groups. She will also perform equally well under power.
She's width is 7.50 m. Sailing boat Lagoon 421 enables excellent conditions for leisure sea trip. 4 cabins are placed inside the boat. For comfort of passengers there are 4 WC with shower. With 103 m2 of sails you can sail safe and fast. You can fill the tank with diesel with 350 litres and in water tank it goes even 600 litres. With motors 2x75 Hp you can sail really fast.
Length: 13m
Type: Catamaran
Fits 8 guests
Private bathroom
Get offer
Classic Gulet
2000 Gulet
27 meters Extra Large Gullet
Long Gullet with 8 double or single cabins with attached bathrooms. Having an experienced crew attending to all your needs, you will share the boat with just a few other couples or single travelers.
8 Cabins with attached bathrooms:
2 Queen Cabins for 2 people with a queen double bed and ensuite
3 Double Cabins for 2 people with a double bed and ensuite
1 Triple Cabin for 3 people with a double bed, single bunk bed and ensuite
2 Twin Cabins for 2 people with 2 single bunk beds and ensuite
Meals:
Three buffet styles meals and tea & coffee per day. Vegetarian and vegan options available.
Lounge and Dining Indoor & Outdoor.
Length: 27m
Type: Gulet up to 6 cabins
Fits 16 guests
Private bathroom
Get offer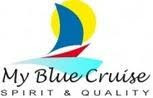 About Us
A memorable cruise on a beautiful, hand-constructed, wooden yacht encompasses traditional cuisine, stunning scenery, refreshing swimming breaks, and an exceptional lifestyle. Your cruise can include paragliding, diving or water sports as well.
The crew of "My Blue Cruise" has fifteen years of local sailing experience, enabling them to build up intense, first-hand knowledge, to pass onto their passengers. They will show you parts of Turkey, that you have never seen in any guidebook or travel publication.
Our destinations