Sail in greek waters
Our yachts
Lagoon 46
2020 Lagoon
EASY AND EFFICIENT NAVIGATION
Banner of the new DNA of Lagoon, the 46 is a high performance and very marine boat that offers:
- an increased canopy for a better sail / displacement ratio
- a delayed mast, the result of VPLP design's experience in high competition sailing.
- a shorter boom, a self-tacking jib and an integrated electric mainsail windlass
- a large bow triangle for a wider range of sails and greater efficiency
Length: 14m
Type: Catamaran
Fits 8 guests
Private bathroom
Get offer
Lagoon 400
2018 Lagoon
The key feature of this boat is balance – balance between space and performance, cabins and bathrooms, interior and exterior.
It offers the benefit of a perfectly equipped helm at the port forward part of the cockpit. In addition, a unique design of this Lagoon ensures comfortable accommodation.
Each cabin is equipped with a double bed that can be transformed in a single one if necessary. There are many compact shelves and boxes that help to organize and storage things. Wide windows provide good natural illumination and a chance to enjoy the sea scenery from the cabins. A modern ventilation system guarantees fresh air indoors.
The galley is situated between the salon and the cockpit – the rooms are at one level. The back deck is equipped with special protections for safe movement.
Length: 12.20m
Type: Catamaran
Fits 8 guests
Private bathroom
Get offer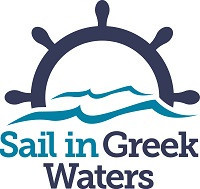 About Us
Sail in Greek Water offer sailing holidays in Greece to individuals, group of friends and families. You can charter a sailing yacht from 'Sail in Greek Waters' and enjoy the unique experience of sailing in Greece with safety and high standards of quality.
Follow us and you will have resourceful information about sailing yachts, incredible destinations for sailing and many other hints and tips.
Book now your sailing holidays in Greece with the experts on yachting. Personalized services, sailing lessons, corporate events, custom made sailing vacations
Our destinations