Sailing-Classics CV
Look forward to a relaxed sailing experience on large yachts without the pressure of fixed routings, and the comfort and service of a cruise, anchoring in the most beautiful bays of the Mediterranean and the Caribbean.
Our yachts
Sailing-Schooner
2013 Sailing-Schooner
In Greek mythology, KAIRÓS symbolizes the 'perfect moment' one has to seize right when it comes by. That said: Welcome on Board!
The sketch of KAIRÓS follows the drawings of classic sailing schooners in the 20's of last century - the glorious times of legendary sailing vessels, when famous designers like William Fife from Scotland, Charles E. Nicholson from England or John Alden and Nathanael Herreshoff from the States created yachts of unequalled elegance and style.
Following these traditions KAIRÓS, was built with a hull of steel and all finishings in teak and mahogany. We avoided larger superstructures on deck in order to create as much free space on deck as possible.
KAIRÓS is very fast and seaworthy. With light and middle winds or under engine, she already reaches a speed of 10 kn. KAIRÓS can easily tack against the wind; the sails don't need to be reduced up to 6 Beaufort.
On Deck
Large deck space, built of teak, plenty of space for sunbathing and relaxing, at the stern up to 20 guests may take breakfast, lunch or dinner under the sun roof.
Deckhouse with steering stand and bar. Admirality ladder on one side for swimming and reaching the dinghies. Gangway at the stern for leaving the boat at the mole. 2 dinghies with 15 and 40hp.

Below Deck
10 spacious double cabins with air-condition and own bath and shower accommodate a max. of 20 overnight passengers. (Only 9 double cabins are for charter with a max of 18 overnight guests.
Cuisine: Early Bird Breakfast, breakfast buffet, lunch, afternoon tea and cake, dinner. Weekly Captain's Dinner.
Large saloon offering plenty of space for meals and meetings with 20 guests below deck.
Length: 38m
Type: Sailboat
Fits 18 guests
Private bathroom
Get offer
Staysail Ketch with a wishbone
2013 Staysail Ketch with a wishbone
... more than sailing
Chronos is a 180 feet (48 mt) Staysail Ketch with a wishbone. The finishings are done in teak and mahagony, they combine a classic design and excellent sailing qualities with spacious cabins and a higher level of comfort – plenty of space on our teak deck, a large salon in the deckhouse, a sitting area for all guests at the after deck and two ladders for bathing. Separate library with Plasma TV/DVD, beamer and projection screen in the deckhouse.
The drawings have been done by Klaus Roeder/Tutzing, Germany, she was built in a classic style and with a hull of steel at Ark Yacht in Bodrum, Turkey.
Classified as a small passenger vessel for a max. of 36 guests, sailing
under Dutch flag. CHRONOS can accommodate 26 overnight guests in 13 spacious double cabins, all with air-condition
and own bath. In addition the 10 Deluxe Cabin beds can be built as family beds (plus 10 guests).In details: 1 Deluxe Cabin, 10 Standard Double Cabins (all with either double, single or family bed at your choise), 2 Standard Double Cabins "Long" (2.10m long double beds). A child/juvenile up to 18 years is allowed in the cabin of the parents, converted into a triple at the addictional cost of € 250,00.
A crew of at least 8 people will care for maximal 26 overnight guests.
On deck there is an aft helmstand and an outside seating-area, as well as a saloon with bar (so no saloon below deck). The entrance to the cabins is in a second deck's house, where also the ship's office and an interior helmstand are located.
Chronos has been announced as a finalist for the World Superyacht Awards 2014
Length: 48m
Type: Classic sailing yacht
Fits 26 guests
Private bathroom
Get offer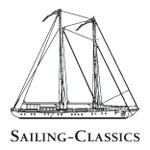 About Us
You can book our Sailing-Yacht-Cruises as single, couple, in groups or as a full-charter. Enjoy the freedom of the sea on board of Sailing-Yachts KAIRÓS and CHRONOS, without having to stick to a certain route, just like you were sailing on your own private yacht.

You may stand at the helm and help setting and trimming the sails. Or you 'just' relax on our large deck of teakwood and enjoy the sight of the waves, watch the shore passing by and let your spirits flow. A professional crew will, besides the sailing, provide you with an excellent cuisine and a caring service.

And if the wind is calm, we just find the closest bay and enjoy a refreshing swim, go snorkeling or take a stroll on the beach, go on an individual excursion to the shore and get to know the country and its people, and much more...seafaring pure, far from the mass tourism of large cruise liners.
Our team
Our destinations