Sailing Thailand Island Cruises Co., Ltd
The company is managed by experienced Cruising Sailors with many years of experience in Sailing Thailand and around the world.
Our yachts
SY Freedom Fargo
1975 freedom 40
The SY Freedom Fargo is a comfortable sailing yacht, built as an owner version.
She is a modern classic yacht of 40 f length and she sleeps 4 guests in 2 spacious double cabins. On day trips the SY Freedom Fargo provides space for up to 20 guests.
This exceptionally beautiful example for innovative yacht design was purposely built for comfortable sailing in tropical waters. Purchased in Trinidad & Tobago/Caribbean from our captain Alf she was able to proof her seaworthiness on her way half around the globe through the Caribbean Sea and the entire Pacific Ocean.
The commodious cockpit provides a shady spot for up to ten people under the large Bimini to enjoy the soothing sound of the bow wave or relaxing music from the cockpit speakers.
Captain and Crew are experienced sailors and since the crew is a fabulous chef your expectations towards food will be more than fulfilled.
Length: 13m
Type: Sailing ship
Fits 4 guests
Get offer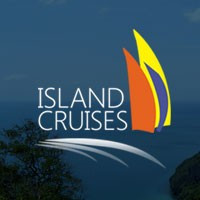 About Us
The office is located on the main road in Mae Haad, the main town of Koh Tao. The Island Cruises Team welcomes you to enjoy the best sailing activities in a beautiful, tropical environment.
Island Cruises offers the opportunity to explore Thai waters aboard an Island Cruises Sailing Yacht with some of the most experienced Cruising Sailors who can be found in Thailand.
Our destinations