Sailtogether.com
Our Leitmotiv: Take only memories… Leave only footprints… Sailtogether is committed to preserve each visited place and traveling while respecting Nature.
Our yachts
Sailboat Roulette
2015 Roulette
Differents sailboat models available and will confirm days prior to embarking, depending on the cabins booked
Example: The Oceanis 48 Sailing Yacht is the largest in her size. She has the largest cockpit area, providing you with the most room possible to relax outdoors. There is ample deck space for laying out and enjoying the sun, with an unfolding transom, which provides a large swimming platform for getting into and out of the water.
CABIN SIZES:
Booking your cabin is on a 'first come, first served' basis. There are 2 cabin types available:
Aft cabin: is at the back of the boat with the most room, however you will share a bathroom with the 2nd aft cabin.
Forward cabin: is at the front of the boat, and smaller due to the shape of the boat's hull. You have a private bathroom and shower in each of these.
When in port, you will have access to the marina facilities and we ask that you don't use the boat's facilities while in dock.
Length: 14.60m
Type: Sailboat
Fits 8 guests
Get offer
Lagoon 380
0 Lagoon
Differents catamarans models available and will confirm days prior to embarking, depending on the cabins booked
Fast, easy to maneuver and safe, its stalwarts are found in all the seas of the globe.
Length: 11.58m
Type: Catamaran
Fits 8 guests
Get offer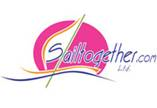 About Us
Aboard our sailboats, you will live intense exploration moments, through blue waters, heaven-sent landscapes, unusual visits, and unique moments of friendliness and gatherings. You will sail to special places which go beyond usual tourist courses, driven by the trade wind or the moderate Meltem wind depending on the destination.
Sailtogether is a philosophy, an encounter of cultures, friendliness, team spirit and sharing, it's a desire for exploration and adventure, it's setting sail to meet the world. We aspires to a higher democratization of yachting, making it more accessible to all sea lovers, journeys off the beaten track, discovery and freedom, with the desire of preserving the nature through making everyone aware of the beauty and fragility of these ecosystems… the islands and coral reefs.
Today, Sailtogether has also a new challenge: sharing our passion with the ones who don't even dare to dream about it; young orphans, ill or poor children who will live an unforgettable and unique experience in pure and immaculate nature and islands that can open new horizons and bring new hopes.
Our team
Our destinations