Yacht charter tips: provisioning guide
Welcome aboard, fellow sailor! Are you ready to set sail and explore the vast oceans? As you embark on your sailing journey, one important aspect to consider is stocking your galley—the heart of your floating abode.
Posted by: on in
Boating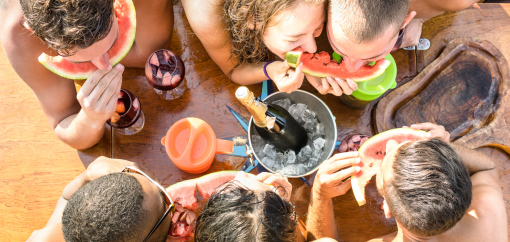 At INTERSAILCLUB, our mission is to elevate your sailing vacations by connecting you with like-minded travelers and offering unique sailing experiences. While everyone on your boat may share a passion for dancing or indulging in fine wines, we understand that food preferences can vary greatly.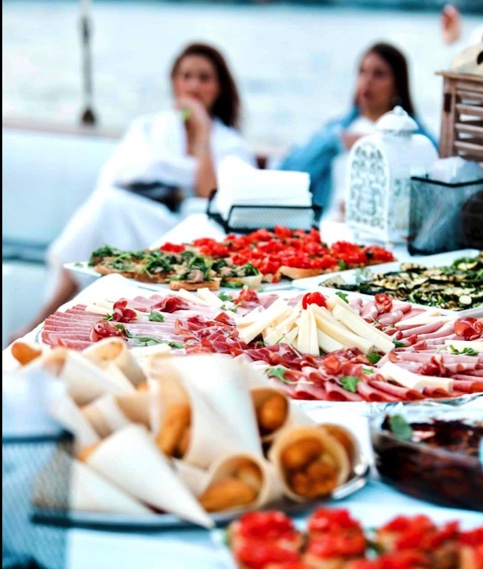 Our team of professional consultants has meticulously curated exceptional global travel experiences to help you uncover your ideal holiday destination. When you book through our website, you'll find a wide range of options to suit different budgets and personalities, including the choice of having a personal chef onboard.

Having a chef on board is a delightful option for those who want to savor local cuisine and delicacies without the hassle of cooking. Our onboard chefs are culinary experts, introducing you to the finest in local flavors while you soak up the sun and enjoy a glass of wine. However, we also understand that many people relish the experience of cooking themselves, especially to explore local products and flavors not available at home.

Cooking is not just a creative outlet; it's also a fun way to bond with your fellow crew members. Even without a chef onboard, your skipper will always be available to guide you to the finest local markets, grocery stores, breathtaking beaches, diving spots, and cultural highlights.
When it comes to provisioning your galley, we offer you five main options to choose from, or you can combine them according to your preferences:
1. Chef On Board: Some yachts provide the option of having a chef on board. They will send you a form to fill out your food preferences and allergies to tailor the meals to your liking. The chef will stock the galley with fresh local ingredients and prepare delectable dishes, giving you more time to enjoy your sailing experience. Crew members are encouraged to join in with the cooking, fostering camaraderie among your group.
2. Charter Company: This option is ideal for those chartering the entire yacht. You can order your provisions in advance through the charter company. They usually offer a form where you can specify your preferences, allergies, and the number of meals you wish to have onboard. You can choose to have the galley stocked for all meals or only for breakfast and lunches. The advantage is that charter companies have extensive experience provisioning the boat, ensuring you won't miss anything essential. However, you may miss out on the excitement of discovering local products.
3. Order in Advance: In select destinations, the charter company or skipper can recommend local grocery stores that take advance orders and deliver to the dock. This can save time and may be cost-effective, depending on the supplier. It does require organization, but you can complement the ordered items with locally purchased ingredients.
4. Local Grocery Stores: Make a list and head to the local stores. While it can be fun to go as a group, it's often more efficient to nominate one or two people to do the shopping. Shopping locally allows you to read labels and discover unique ingredients. Be flexible and open to adapting your meal plan based on the availability of local products.
5. Local Markets: Exploring local markets is an enjoyable experience, offering a variety of exotic fruits, vegetables, preserves, spices, and fresh bread. Take your time to browse and select the freshest produce, and don't forget to haggle for the best deals. Supporting local markets also provides insights into the community's way of life and their culinary traditions. Be sure to wash all fruits and vegetables before storing them in your fridge to prevent contamination. If you plan to buy meat or fish, consult your skipper for recommendations on the best local sources.


Considerations:
When provisioning without a chef, several factors come into play. Consider the composition of your crew, such as whether you are traveling with children, teenagers, or adults with different eating habits. Some other important considerations include:
What provisioning services are available?


Are there local grocery stores and restaurants along the way?


What are the regional specialties?


What currencies are accepted, and do you need cash or are card facilities available?


How many meals will you eat on board, and how many will you eat out?


How much time do you want to spend in the galley?


Do any crew members have special dietary needs?


What cooking facilities are onboard, such as a stove, oven, or BBQ?


How much refrigeration and freezer space is available?


What equipment is provided onboard?


While this may seem overwhelming, planning ahead and considering these factors will simplify your trip and ensure a smooth sailing experience. If you're traveling with a group, use it as an opportunity to get to know each other better by collectively contributing to meal planning and provisioning.
Shopping Tips:
Fresh bread can often be purchased at local restaurants, bakeries, or markets. If not, store your bread in the fridge to extend its freshness. Sourdough, ciabatta, and tortillas tend to last longer than store-bought bread.

Create a snack bin with a bag of snacks for each day to prevent overindulgence and the need for frequent shopping, especially if you have children on board.

Plan for larger appetites when traveling with kids, as a day of exploration and activities can increase their food consumption.

Consider vacuum-packed meat to save space and extend freshness.

Opt for canned drinks over glass containers for easier storage.

Embrace the adventure of trying new ingredients and be flexible with your meal plan based on local discoveries.
Storing Provisions:
Use a hard-sided cooler on deck for ice, water, and drinks to minimize opening the boat's fridge during the day.

Prioritize using the most perishable items in your fridge early in the trip.

Understand that boat fridges may not have precise temperature control, so plan accordingly.

Avoid overstocking frozen foods, as boat freezers may not perform like home freezers.

Consider labeling foods to streamline meal preparation and optimize time on deck.

Use Ziploc bags for organization and to contain potential leaks or spills in the fridge.

Maximize storage space in bilges and cupboards for dry items, additional water, and drinks.
Managing Trash:
Be prepared to carry your trash until you find a place to dispose of it, and consider potential disposal fees in some marinas.

Opt for cans that can be crushed and minimize excess cardboard and packaging before departure.

Aim to reuse or recycle as much as possible.
Meal Planning Guidelines:
For breakfast, plan a buffet-style spread with cereals, bagels, muffins, fruits, fresh bread, cold meats, cheese, local produce, jams, and preserves. Consider including a warm breakfast option like eggs and bacon or premixed pancake mix.

Lunches should be easy to prepare, as you might be sailing or anchored in less sheltered locations. Think sandwiches, salads, wraps, quiche, or picnic-style foods.

Dinners offer a chance to showcase your culinary skills. Divide dinner preparations among your group members, allowing a few nights for dining out. Utilize the onboard BBQ for grilling fish, meats, kebabs, and vegetables, pairing them with salads and fresh bread. Additionally, pastas, salads, quiches, and couscous make for quick and delicious dinner options.

Sunset snacks, or "sun-downers," are ideal for unwinding after a day of activities. Offer items like chips, crackers, cold meats, cheeses, grapes, olives, and fresh fruits. Get creative and prepare a tapas feast for a unique experience.
Beverages and Ice:
Consider everyone's beverage preferences, including coffee and tea drinkers.

Plan for at least 2 liters of water per person per day.

Explore locally produced beverages, which can be more budget-friendly than imports.

Purchase solid blocks of ice to line the fridge and cooler, as they melt more slowly.
Condiments and Sundry Supplies:
Don't forget essential condiments such as salt, pepper, oil, butter, herbs, spices, and sauces.

Consider bringing small containers or Ziploc bags of spices from home, keeping airport security regulations in mind.

Remember sundry supplies like paper towels, toilet paper, garbage bags, and Ziploc bags.

Check if you need basic cleaning supplies like dishwashing liquid and cloths, preferably opting for biodegradable options.
Stay tuned for our upcoming blog posts featuring tantalizing recipes inspired by two of our favorite foodie experiences: the Cous Cous cruise, a week-long journey through the Aegean Islands to savor the flavors of the annual Cous Cous festival, and the Wine and Sail cruise, taking you on a voyage along the Italian coastline for a unique wine-tasting adventure.
By Margot Jefferson
Ask us for your next sailing holiday!