PLAGHIA CHARTER srl
Plaghia Charter is company that rents owned vessels based in Praiano, Amalfi Coast, and has its naval base in Marina di Stabia (Castellammare di Stabia). Plaghia Charter was found in 2005.
Our yachts
Azimut 62S
2000 Azimut
The Yacht Azimut 62S is a limited edition open yacht. It stands out for its ease of movement on board and the sporty and elegant design, characteristic of all yachts in the Azimut line. A few movements are enough to transform the outdoor environments into interiors and vice versa, thanks to the sliding roof.
A large dinette overlooking the sea, also allows you to continue to admire the view from inside.
With 3 separate cabins capable of accommodating up to 6 guests, plus the crew, this Yacht is designed to make you live an experience off the Italian coast, enjoying landscapes of pure beauty on the Mediterranean.
Length: 19.26m
Type: Motor yacht
Fits 8 guests
Get offer
Gulet 6 cabins
0 Gulet
This is a Turkish gulet in mahogany and iroko of over 23 mt.
The combination of the tradition of design and materials, and the modernity of the equipment, makes it one of the finest and best equipped charter boats of its category.
Pastel coloured tapestries, ceramics of Positano, gratings, embroidered and personalised linen and cotton bedding, brass lamps and woven mats with marine rope: local skilled craftsmen have worked to make each detail of the boat unique and refined.
Length: 12.80m
Type: Gulet up to 6 cabins
Fits 12 guests
Private bathroom
Get offer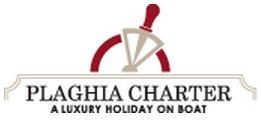 About Us
Members of Plaghia Charter come from the shipping sector, and they have an experience of over thirty years in services dedicated to tourism and recreational boating on the Amalfi Coast. Today the shipping company is a solid holding, credited with the best nautical brokerage agencies.
Plaghia Charter is a company active in the motor-sailing and motor-boats rental field, moreover it organizes cruises in the Mediterranean Sea (navigation areas: Amalfi Coast, Neapolitan archipelago, Pontine Islands, Aeolian Islands, Egadi Islands, Tuscan archipelago, Sicily, Sardinia, Ionian Greece, Tunisia), coast to coast day trips and "bed on boat" services.
The four boats in the Plaghia Charter fleet are also available for lunches, business meetings and corporate events, ceremonies and private parties, photo- and film-shooting and fashion shows.
Discover Plaghia Charter boats and services, or contact us for more information by sending a message.
Our destinations