Catamaran Cruise from Santorini to Naxos
Cyclades, GR

2 days trip

Catamaran
Individual prices may be subjected to availability due to daily updates to the calendar. If a minimum number of guests is necessary for guaranteed departure and currently the number has not been reached, please, contact us to verify the up to date guest list with the supplier.

Skipper

Boat and Tender

Kitesurfing

Scuba Diving

All cabins with private electric toilet/shower

Linnen, snorkeling gear

Include Breakfast

Mainly port fees

Fuel

Tea or Cofee / Ouzo

Food and beverage

Fuel (on consumption estimated 100 euro)

Hostess/Breakfast/Lunch 150€/day (optional)

Extras marinas if demanded

Price per Person
You can book place or places in yacht cabins or book a whole yacht. Booking whole yacht is only available for cruises with no travelers already on board.

Skipper

Boat and Tender

Kitesurfing

Scuba Diving

All cabins with private electric toilet/shower

Linnen, snorkeling gear

Include Breakfast

Mainly port fees

Fuel

Tea or Cofee / Ouzo

Hostess/Breakfast/Lunch 150€/day (optional)

Extras marinas if demanded

Food and beverage

Fuel (on consumption estimated 100 euro)

Price per Boat
Your sailing trip
Catamaran Cruise from Santorini to Naxos
Sail & Explore the Greek islands with us! Sailing, kitesurfing, diving and more
On board our comfortable fully equipped catamaran sailing to beautiful destinations in the Cyclades. This Catamaran does trips to many beautiful spots in Cycladic islands. Stay on anchor in a bay, swim or snorkel in the turquoise water of the Aegean sea. Visit little villages and explore the genuine Greece. Stay away from the typical crowded touristic spots and discover a side of Greece most people never see. Eat your dinner onboard or visit a nice tavern in a village on one of the many islands.
Our captain is an experienced sailor with many years of sailing in the Cyclades. He is also a certified diving and kitesurfing instructor and we carry all the appropriate gear on board. If you want to try any of the many activities we offer please let us know in advance so we can give more information. Diving, Kitesurfing, Stand Up paddling, Hiking and Yoga is some of the activities we offer.
Onboard water toys/equipments: SUP, dolphin board, diving compressor - free of charge!
Use of scuba diving gear, kiteurfing gear, snorkeling equipment - free of charge!
Toby (the captain) speaks swedish and english, experienced sailor and certified skipper, RYA Yachtmaster/NOS. More than 30 years sailing experience as well as certified kitesurfing and diving instructor.
Empty bays are ideal for a swim or snorkeling and a casual lunch on board. We have the choice of taking the dingy to the shore to visit a taverna, a restaurant or try a Greek souvlaki!

Hostess / Food / Supplies
You can either shop yourself or if you choose the benefit of having a hostess this can be done for you.
A hostess on board will prepare up to 3 meals a day, snacks, beverages and sundowners as well as taking care of the general house keeping tasks.
We can also arrange your transfer from and to the airport.
Our mission is to exceed your expectations and to give you a vacation of a lifetime
Itinerary
Mykonos, Ornos Bay to Rhinia
We will meet at Ornos Bay in Mykonos at 13:30, then we eill embarque and make a welcome briefing , after this we will make our first sail to Rhinia, an untouched piece of paradise where we will enjoy a night under the stars and if weather permits enjoy BBQ on the beach or dinner onboard otherwise.
Santorini
We are going to start sailing to Island of Santorini. Santorini, or Thira, one of the largest volcanic eruptions in the world and what remain today are a submerged volcano and a caldera and you will have chance with your Skipper to see all from the boat get your cameras ready. You will organise with your skipper where you will spend the night Santorini Island has few options for it. Disembarkation will be at 10:00AM on 16 June 2017 in Marina Vlichada Santorini and the boat is going back to Mykonos Island.
Cruise price details
Accomodation on selected shared cabin, check out single use and details
Book the entire yacht for a private trip
Yacht
Privilege 42'
The Privilege 42 is a comfortable fully equipped catamaran sailing to beautiful destinations in the Cyclades.
Natural light from large ports floods her distinguished, warm beech wood interiors while multiple hatches throughout provide cool conditions even in the hottest months of the summer season. On sight you'll be understand why this fine yacht is one of the most sought after vessels in the fleet.
The Privilege 42 has accommodations for 8 people in four double cabins. There are four heads in total, all with hot and cold showers.
Spacious saloon, four spacious cabins with toilet and shower and a large cockpit, Fully equipped galley, fridges, freezer and plenty of storage space.
The Privilege 42 has classic slab and roller reefing, wheel steering, an electric anchor winch, transom shower with ladder and a tender with outboard engine. There is a bimini and dodger over the companion way, an ondeck shower,AM/FM radio & CD player, fully equipped galley with LPG stove & oven, fridge/freezer, pre-charter cruising guides, full boat and chart briefing.
Cruise activities and tips
Travel activities
Enjoy scuba diving
Scuba diving license required. Dive master onboard and air compressor onboard. Equipment available and free of charge.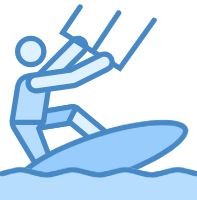 Kite surf equipment onboard
Free of charge, confirm in advance please.
€

612

Individual prices may be subjected to availability due to daily updates to the calendar. If a minimum number of guests is necessary for guaranteed departure and currently the number has not been reached, please, contact us to verify the up to date guest list with the supplier.

Skipper

Boat and Tender

Kitesurfing

Scuba Diving

All cabins with private electric toilet/shower

Linnen, snorkeling gear

Include Breakfast

Mainly port fees

Fuel

Tea or Cofee / Ouzo

Food and beverage

Fuel (on consumption estimated 100 euro)

Hostess/Breakfast/Lunch 150€/day (optional)

Extras marinas if demanded
€

4900

You can book place or places in yacht cabins or book a whole yacht. Booking whole yacht is only available for cruises with no travelers already on board.

Skipper

Boat and Tender

Kitesurfing

Scuba Diving

All cabins with private electric toilet/shower

Linnen, snorkeling gear

Include Breakfast

Mainly port fees

Fuel

Tea or Cofee / Ouzo

Hostess/Breakfast/Lunch 150€/day (optional)

Extras marinas if demanded

Food and beverage

Fuel (on consumption estimated 100 euro)