Kitesurfing Cruise Route from Split to Dubrovnik
Dalmatian Islands, Croatia

7 days cruise

Catamaran
Shared cruises may require a minimum number of guests.
Price may vary depending on the cabin type, occupancy and cruise date.
Reservations are subjected to acceptance after availability checks. In case, the selected cruise is not available we will contact you with similar offers.
Price per Person
Price may vary depending on the cruise date.
Reservations are subjected to acceptance after availability checks. In case, the selected cruise is not available we will contact you with similar offers.
Price per Boat
Your sailing trip
Visit all of the best Croatian Islands in 7 days escaping from the mainstream crowded spots and let us show you a whole new kite world!
We follow the wind and share with you the most unique kiting spots in Croatia, barely touched by human hand. Experience complete relaxation while riding a wave on one of the many breathtaking downwind sessions or jump from one island to another in a matter of minutes. Enjoy in amazing sunset downwind trips between many unspoilt islands and crystal clear flat water. Live and sail on a fully equipped luxury Lagoon catamaran. Be totally free and kite anywhere you want with a 24/7 rescue & support.
Go wherever you wish, whenever you wish from Split to Dubrovnik and all of the islands, always enjoying complete privacy on our luxurious and comfortable "floating house". Avoid all of the crowds and get the best of Croatia. With a professional skipper always aiding you and doing all the work, the only danger is you will never want to leave. Our skippers are loaded with the local knowledge of the best restaurants, beaches and secret spots. Contact us for a full week boat discounts or special wishes. No previous sailing experience is needed.
Traveling alone is old news, take your entire family and friends with you! The kids can play on the flybridge and lay on the front nets while looking below into the crystal blue water waiting for the waves to splash them. Our catamarans offer enough luxury and space for games, jumps, sunbathing, as well as quiet corners and secluded areas. Your entire family or friends will have an unforgettable journey and a lot of new memories to fill the photo albums with.
The most famous beach in Bol Brač, the 'Zlatni rat' beach offers ideal flat water kiting conditions. Mostly used kites are between 9m and 12m. To broaden your kiting journey sail further south to the amazing peninsula Peljesac whose long history made it rich with old monasteries and medieval ruins. It is surely one of those places which will leave a deep impact on you and taunt you to return. Near this is another magnificent kiting spot Neretva, famous for its completely shallow flat water, making you feel as if you were skating on ice instead of driving full power and getting ready for some awesome jumps – there it's not called kiting, it's art.
Amazing food
If you are still not convinced about croatia, trust us, the food alone is a reason to visit this heavenly place. Imagine all of the top cuisine, tastes, aromas, fish, meat, clams, fruits, vine and many many more, all combined in one place. Every island is a new culinary adventure and every restaurant on the island has its own heritage – it is amazing! Let your tastebuds engage into something they were not prepared for – complete perfection of the taste !
In any case, considering everything that was said above, the only problem you will have at the end of your trip is not wanting to go back home!
Itinerary
Boarding in Split Get ready for an amazing trip
Once you land at the airport, transfer will be waiting to bring you to the Marina. When everyone is onboard you will set off for a short navigation in the direction of Bol on the island of Brač. Make the most of this time to meet the crew and get familiar with the catamaran. You will moor for the evening and overnight.
Brač Bol & Murvica Experience the most stunning beach in Croatia, Zlatni Rat (Golden Cape)
Afternoon relax party at the famous Auro Beach/Lounge Bar. Chill on the lazy bag, have a few drinks and swim in the crystal clear water. Explore the old town and visit the wine museum. Dance the night away at Varadero Cocktail Bar in the old town. Free kitesurfing introduction course suitable for anyone Short SUP to Zlatni Rat, Dive, Swim Hike or bike the highest island top of all others in the Adriatic sea with its height of 778 meters. Relax in beach club Auro, sip morning coffee in Bolero or party in Varadero
Hvar & Palmižana - Unique fusion of luxurious Mediterranean nature, rich cultural and historical heritage.
Climb up to the fortress for a stunning view of the old town and the surrounding islands. Check out top party spots like Hula Hula Beach Bar, Kiva Bar, chillax on the boat or find some good local restaurant. Hvar is a top place for fine dining. Hvar, a Croatian island in the Adriatic Sea, is best known as a summer resort. Highlights of the port town Hvar include its 13th-century walls, a hilltop fortress and the main square anchored by the Renaissance-era Hvar Cathedral. The island also features beaches like Dubovica and inland lavender fields. Hike to Hvar Fortress Discover the Island of Wine Discover the Culture of the World's Only Island with 4 UNESCO Heritages Flysurf Amazing nightlife & great restaurants Relax in Laganini beach bar
Pakleni & Vis - Visit the crystal-clear waters, hidden beaches and deserted lagoons of the Pakleni Islands (Pakleni Otoci).
Hell Islands are the prettiest part of Hvar's, if not the of whole Croatian riviera. A playful chain of woody isles, dipped in a clear, azure sea, a few resorts and swimming areas, and a number of little, hidden away beaches, stone terraces facing sun, and beautiful deserted lagoons make, as someone said, "An Arcadia in grasp of the palm. Rich in incredible history, the old town of Vis is filled with top quality restaurants, boutique shops and cafes. Formerly a military island, Vis is loaded with places to explore including an old army wine bunker. Sunset downwind Kitesurfing Sightseeing & Snorkelling Lunch at Pakleni Visit the Stiniva Cove Visit the Green Cave
Korčula - Immerse yourself in Korčula's narrow walkways and discover
Rich in vineyards, olive groves and small villages, and harbouring a glorious old town, the island of Korčula is the sixth-largest Adriatic island, stretching nearly 47km in length. Dense woods led the original Greek settlers to call the island Korkyra Melaina (Black Korčula). Quiet coves and small sandy beaches dot the steep southern coast while the northern shore is flatter and more pebbly. Korčula is one of Dalmatia's most relaxing getaways. The main town of the same name, set on the north-eastern tip of the island opposite the Pelješac peninsula, has one of the best-preserved medieval centres in the Adriatic. Historic Korčula is therefore the most popular south-Dalmatian destination after the more crowded Dubrovnik, with which it is often compared. Visit Marco Polo's Home on the Island of Korcula Cycle Korcula Island Experience Korcula Island's Local Culture Visit Korcula's Picturesque Old Town
Mljet - One of the most beautiful and most forested island in the Adriatic
Untouched nature, the island's mysticism, olive groves, vineyards and rich forests are ideal places to research the rich flora and fauna, and to peacefully enjoy the pristine beauty of the natural surroundings. It was already mentioned in the fourth century BC in Greek writing, and the numerous Greek amphora and shipwrecks along the coast of Mljet are evidence that Greek sailors stayed on the shores of Mljet during their journeys. Mljet National Park makes up most of the island, and there are several villages, two salt water lakes – Veliko and Malo jezero, and a Benedictine monastery on the island of sv. Marija. The Roman Palace, which is the largest after Diocletian's Palace in Split and the Arena in Pula, is a part of the valuable heritage of the island of Mljet. Explore natural heritage Visit Roman palace Explore the Untouched Beaches of Saplunara Take a Swim at Odysseus Cave
Dubrovnik - Those who seek paradise on Earth should come to Dubrovnik
Overlooking the calm blue waters of the Adriatic, Dubrovnik is one of the world's most magnificent walled cities. Now a Unesco world heritage site and Croatia's most up-market destination, it was once the capital of the wealthy sea-faring Republic of Ragusa (1358-1808). Add to this the beaches, pristine sea, informal eateries serving top-notch seafood, chic five-star hotels and adventure sports facilities, and your holiday is made. Which is why celebrities such as Brian Ferry, Diego Maradona, Francis Ford Coppola and Tina Turner have recently been spotted here. Nab the best table at Nautika Sip Croatia's finest wines Visit a medieval pharmacy Find the ideal beach Have your own island idyll Stay overnight in Dubrovnik or return back to Split
Cruise price details
Accomodation on selected shared cabin, check out single use and details
Book the entire yacht for a private trip
Yacht - Lagoon 50
Lagoon 50 is a large comfortable catamaran for up to 10 people
Equipped with 4 cabins plus 2 cabin crew in the front. Salon and 1 skipper cabin. Ideal for families and groups of friends. It has AC, Generator and 1000l of water to make your trip as independent as possible. The deck is made from special wood teak. Included is a fast tender boat Highfield with Honda 25HP. Perfect for all activities and trips.
Cruise activities and tips
Travel activities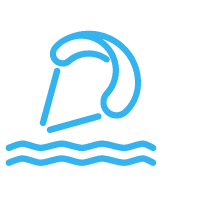 Kitesurfing School
For learning to kitesurf, you don't need any former knowledge – our highly qualified instructors will teach you everything with a smile. Your progress will be rapid and excitement is guaranteed, the reason is we use the newest methods for fast and safe learning. In kitelife kiting shool we use helmets with radio links, which allow a constant connection between the student and the instructor, proving our kite equipment is always up to date. For young and old – Kitesurfing is suitable for everyone, from the age of 8 up to the age of 70. Everyone is invited to enjoy this magnificent sport. Adrenaline or simple enjoyment – We can easily teach you high jumps, which will send adrenaline rushing through your veins, or you can simply enjoy a calm ride through the clear, blue, endless lagoon with soft sand and shallow water. Chosen locations – We organize our Kitesurfing school only on locations with comfortable and steady wind in lagoons with flat water. To get the best progress possible, we suggest a 5-day course on the water. Certifications and Licenses – Are instructors are IKO / VDWS / ISAF certified, which allows them safe, fast and effective teaching.
€

1563
Shared cruises may require a minimum number of guests.
Price may vary depending on the cabin type, occupancy and cruise date.
Reservations are subjected to acceptance after availability checks. In case, the selected cruise is not available we will contact you with similar offers.
€

12500
Price may vary depending on the cruise date.
Reservations are subjected to acceptance after availability checks. In case, the selected cruise is not available we will contact you with similar offers.