Luxury Catamaran Kite Cruises Experience
Greece

7 days trip

Catamaran
Individual prices may be subjected to availability due to daily updates to the calendar. If a minimum number of guests is necessary for guaranteed departure and currently the number has not been reached, please, contact us to verify the up to date guest list with the supplier.

Skipper-Kite Guide

Bed linen & towels (one set/person/week)

Extra cooking gas bottle

End Cleaning of the yacht
Dinghy boat with outboard (engine)
Water Toys

Port fees and Fuels (300-500€)

Provisions (Food and Drinks)

Transportation to the Marina

900 eur for the week for: 2 boards, 2 harnesses, 3 kites, 2 helmets, 2 lifevests and 2 paddle boards on the catamaran

Hostess/Deckhand preparing breakfast and one light meal /day + bed (150,00 EUR per day + food)

One way fee Athens to Cyclades (Paros / Mykonos), 300,00 EUR Embarkation late of the first Day, Disembarkation the previous day @ 12.00 pm
Stand up paddle (SUP) on request

Price per Person
You can book place or places in yacht cabins or book a whole yacht. Booking whole yacht is only available for cruises with no travelers already on board.

Skipper-Kite Guide

Bed linen & towels (one set/person/week)

Extra cooking gas bottle

End Cleaning of the yacht
Dinghy boat with outboard (engine)
Water Toys

Provisions (Food and Drinks)

Transportation to the Marina

900 eur for the week for: 2 boards, 2 harnesses, 3 kites, 2 helmets, 2 lifevests and 2 paddle boards on the catamaran

Hostess/Deckhand preparing breakfast and one light meal /day + bed (150,00 EUR per day + food)

One way fee Athens to Cyclades (Paros / Mykonos), 300,00 EUR Embarkation late of the first Day, Disembarkation the previous day @ 12.00 pm
Stand up paddle (SUP) on request

Port fees and Fuels (300-500€)

Price per Boat
Your sailing trip
Luxury Catamaran Kite Cruises Experience
Without a doubt, the Cyclades are one of the best kitesurfing playgrounds worldwide!
During our cruise, you are going to visit the famous spots of Paros, Naxos and Mykonos as well as hidden paradises like Reinia and other deserted islands you can only reach by boat.
Hop on our yachts at the port of Lavrion, located in 30 minutes distance from Athens International airport without worrying for connection flights and extra transfers.
According with the captain and your preferences you can choose between two main itineraries: Petali Islands Kite Cruise or Cyclades Kite Trip
Petali Islands are one of those places one must see once in a lifetime!
Famously known as one of the treasures of Greece and the Aegean sea,it's a must visit kitesurfing destination. Petali Islands gather a whole bunch of gorgeous islands, offering private spots and crystal blue waters.
This amazing hidden paradise offers guaranteed wind conditions, flat water areas for paddle boarding downwind trips and numerous diving sites…Absolute privacy at the place that famous painter Pablo Picasso, the ex-kings of Greece and some of the most famous Greek ship owners built their holiday houses in the early 60's
Or the classic Cyclades Kite Trip:
After getting yourself comfortable, we depart to the Cyclades or if you like we can still spend one night in Petali Islands before heading south and depending on the wind conditions we select our first destination. However Meltemi wind is stable and predictable and usually we start our trip at Paros and the celebrity island of Antiparos. Then we move to Naxos stopping at Kyra Panagia island, a deserted island very close to Paros. In Naxos will visit the well known Mikri Vigla beach and then we head to Mykonos and Korfos Beach, one of the newest kiteboarding spots in the Cyclades. Next stop the amazing island complex of Reinia
Itinerary
Cruise price details
Accomodation on selected shared cabin, check out single use and details
Book the entire yacht for a private trip
Yacht
Nautitech 46
The BAVARIA NAUTITECH 46 OPEN has been designed for people who love exploring the oceans.
It doesn't matter whether this is only for a few days or for an extended journey. The joy of lying at anchor in secluded coves, or sailing at speed from port to port – with the NAUTITECH 46 OPEN you can experience all this without sacrificing comfort or luxury.
Cruise activities and tips
Travel activities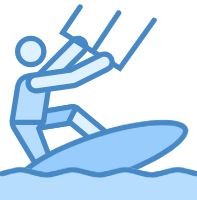 KITESURFING AND KITEBOARDING LESSONS
Since 2006 we offer high quality services to the Greek kiteboarding scene. Experienced Instructors, designated swallow water area for our students, private facilities, ideal weather conditions and the latest equipment make Kitegreece Marmari and Lefkadi Surf Clubs the perfect destinations for both learning and practicing kiteboarding. Evia island is a perfect multi activity destination, as well as one of the windiest places in Greece and due to its geographical position offers unique wind conditions all year round.
€

1612

Individual prices may be subjected to availability due to daily updates to the calendar. If a minimum number of guests is necessary for guaranteed departure and currently the number has not been reached, please, contact us to verify the up to date guest list with the supplier.

Skipper-Kite Guide

Bed linen & towels (one set/person/week)

Extra cooking gas bottle

End Cleaning of the yacht
Dinghy boat with outboard (engine)
Water Toys

Port fees and Fuels (300-500€)

Provisions (Food and Drinks)

Transportation to the Marina

900 eur for the week for: 2 boards, 2 harnesses, 3 kites, 2 helmets, 2 lifevests and 2 paddle boards on the catamaran

Hostess/Deckhand preparing breakfast and one light meal /day + bed (150,00 EUR per day + food)

One way fee Athens to Cyclades (Paros / Mykonos), 300,00 EUR Embarkation late of the first Day, Disembarkation the previous day @ 12.00 pm
Stand up paddle (SUP) on request
€

12900

You can book place or places in yacht cabins or book a whole yacht. Booking whole yacht is only available for cruises with no travelers already on board.

Skipper-Kite Guide

Bed linen & towels (one set/person/week)

Extra cooking gas bottle

End Cleaning of the yacht
Dinghy boat with outboard (engine)
Water Toys

Provisions (Food and Drinks)

Transportation to the Marina

900 eur for the week for: 2 boards, 2 harnesses, 3 kites, 2 helmets, 2 lifevests and 2 paddle boards on the catamaran

Hostess/Deckhand preparing breakfast and one light meal /day + bed (150,00 EUR per day + food)

One way fee Athens to Cyclades (Paros / Mykonos), 300,00 EUR Embarkation late of the first Day, Disembarkation the previous day @ 12.00 pm
Stand up paddle (SUP) on request

Port fees and Fuels (300-500€)