The Best Mediterranean Yacht Cruises in 2021
The last year was a year we stayed at home. It was the year of coronavirus anxiety, canceled plans, and severe lifestyle changes.With 2020 finally behind us, many of us are hoping for our lives to get back to what we know as 'normal': the life without facemasks and fear of illness. Life with schools, offices, restaurants open, and social gatherings and travel plans as things to look forward to. If you cannot wait to pack up and go again, let us show you the destinations that will make you forget about your daily stresses. Start planning your Mediterranean yacht cruise in 2021 in some of Europe's most secluded locations of blissful beauty.  A summer sailing trip in the Mediterranean Sea is a dream vacation that can quickly come true.Whether you have been to heavenly destinations such as Greek Islands, the French Riviera, and Amalfi Coast before or not, these beautiful sailing spots in the Mediterranean will call you to come back over and over again.  So, why not indulge in the opportunity to discover hidden natural gems, new local dishes, traditions, and people each time you visit the Mediterranean? Here are a few useful sailing yacht cruise tips to help you plan your unforgettable summer holiday in Europe's fanciest location.
Posted by: on in
Sailing Advices
,
Inspiration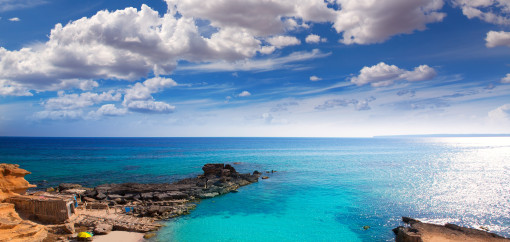 Why the Mediterranean?
The Mediterranean Sea separates Europe from Africa, and it is almost entirely surrounded by the land of the Mediterranean Basin. The Mediterranean is known as one of the world's finest travel destinations, that invites you to set on an unforgettable journey and sail the coastlines of
some of the twenty-one Mediterranean countries.
The Mediterranean is home to some of the world's most popular summer destinations and hot spots for sailing due to its pleasant climate, turquoise sea, ancient ruins, famous Mediterranean food, and stunning architecture.
The Best Time for Mediterranean Yacht Cruises
Summer is the best time to visit the Mediterranean, and it is definitely the high travel season in this part of Europe. The millions of people from all around the world flock to the Mediterranean's beaches during summer months for much-deserved summer break due to the region's pleasant
climate. The summers in the Mediterranean are sunny and hot, and the sea is warm.
However, the best time for Mediterranean yacht cruises is late spring (May-June) or early fall (September-October) when the temperatures and the sea are pleasurably warm, days are sunny, and the crowds in popular destinations are far fewer than in summer.
The COVID-19 Travel Updates
Although the uncertainty around the COVID-19 pandemic is still palpable, you can book your Mediterranean yacht cruise in 2021 with confidence.
This year, most of us feel that we need time to relax from day-to-day stress and recharge our batteries more than ever.
Thanks to our COVID-19 cancellation insurance, you don't have to stress whether your travel plans will be affected due to COVID-19.
Here are some of the reasons why you should book your Mediterranean yacht cruise in 2021 with IntersailClub:
Flexible ReschedulingIf you have to change your travel plans because you cannot get to your departure destination due to COVID-19 travel disruption, you can either:
Receive a credit for the deposit paid, which you can use in the next 12 months or
Reschedule your charter for alternative dates
Optional COVID-19 Cancellation Insurance
Our direct customers can opt for COVID-19 travel cancellation insurance that includes:
Cancellation
Late arrival
Travel interruption
Hotel expenses
Optional COVID-19 cancellation insurance protects you if you or your crew develop coronavirus symptoms, test positive, or are unable to provide a negative PCR test.
With the opportunity to cancel or reschedule your yacht cruise to any of the other Mediterranean destinations, you can plan your vacation with confidence
The Best Sailing Destinations in the Mediterranean for 2021
Yacht Cruises in Italy
As one of the countries with the longest Mediterranean coastlines and countless sailing spots and hidden gems, Italy is one of the top sailing destinations in the Mediterranean.
This beautiful European country is home to some of the most popular Mediterranean destinations such as Sicily, the Amalfi Coast, Capri, and Sardinia.
The warm weather, stunning views, outstanding Mediterranean cuisine, and warm hospitality make Italy an excellent yacht charter cruise destination, so you are going to love it, whether you prefer cabin charters or private cruises.
Here a few ideas on sailing trips in Italy:
Explore south Sardinia's dreamy beaches and sail past the colorful villages of the rocky Amalfi Coast. Nestled at the southern edge of the Sorrentine Peninsula, the Amalfi Coast is Europe's holiday hotspot.
Discover less-known coves of famous Capri.
Rent a yacht in Sicily and visit the volcanic Aeolian Islands with active volcanoes, enchanting bays, and cobalt sea.
Yacht Cruises in Spain
Sail through the glistening Mediterranean around Spain's coast and explore some of its 8000 km long shores. Spain will capture all your senses with its historic cities, the scent of citrus orchards, towering stone castles, sapphire sea, and diverse landscapes.
Discover the Mallorca's Balearic Islands and swim in their crystal-clear waters or book an Ibiza yacht charter cruise to discover sheltered, hidden coves and enjoy the best sunsets you'll ever see.
Yacht Cruises in Greece
With more than 6,000 islands, Greece is an ideal destination for sailing. From ancient ruins and breathtaking culture to incredible cuisine, idyllic villages, endless olive groves, and turquoise waters, Greece offers countless opportunities for fun and relaxation.
Consider including some of the following in your Greece sailing itinerary:
Sail in the country's blue waters from one island to another, and visit famous islands of the Cyclades archipelago, such as Santorini, Paros, Mykonos, Milos, Ios, or Naxos.
Explore the Sporades (Skiathos, Skopelos, Skyros, and Ionnisos) and the Dodecanese (Kos, Rhodes, Symi, and Kastellorizo).
Sail around Crete.
Adrift to Ionian islands of Lefkada, Corfu, Kefalonia, and Zakynthos.
Top Ten Recommended Cruises in the Mediterranean Sea
While the Mediterranean is home to almost endless spots worth visiting, here is the list of top ten yacht cruise destinations you should not miss in 2021:
The Amalfi Coast, Italy
Aeolian Islands, Italy
French Riviera, France
Corsica, France
Majorca, Spain
Ibiza, Spain
Dubrovnik, Croatia
The Cyclades, Greece
The Ionian Islands
Bodrum, Turkey
These fabulous Mediterranean gems are waiting for you to discover them. Book your Mediterranean yacht charter cruise and turn your travel plans into a lifetime adventure.