Sea Sun Ibiza
Sea Sun Ibiza is one of the leading event planning companies in the region
Our yachts
Catamaran
2001 Catamaran
The size of our event catamaran allows for party cruises with up to 80 people with a wealth of details
We provide up to three crew members, a waiter and DJs. to make sure that these celebrations lack for nothing, as our only objective is for our customers to enjoy this maritime experience to the fullest.

One of the things to keep in mind when choosing us is that party boats like ours are perfectly equipped with every comfort, technology and service to host the best festive events. Moreover, it is equipped with a bar area, a barbecue, a sunbathing area, bathrooms and a professional DJ set-up. All this is possible thanks to the spacious size of the boat: 17.8 metres long and 8.8 metres wide. It can reach a maximum speed of 8 kilometres per hour so guests can enjoy the delights of sailing, enjoying the beauty of the natural environment to its fullest.
This catamaran is undoubtedly one of the keys to our event company's success. It provides the setting for the celebrations planned in Ibiza, already famous on this Balearic island. In addition to services like food on board and music on the open sea, the company offers leisure activities such as diving, jet skis, personalised routes to Ibiza's most stunning beaches, etc.
Finally, there are Sea Sun Ibiza's catamaran hire services. Those interested in hiring a boat to spend one or more days exploring the Mediterranean and the Balearic coasts should contact our company to find out more. We impeccably plan all kinds of events, or for visitors who wish to plan their own trip by hiring our boat.
Length: 17.80m
Type: Catamaran
Fits 35 guests
Get offer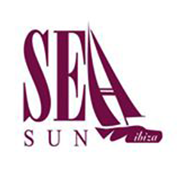 About Us
Ibiza is one of the top holiday destinations in Spain. Every year numerous tourists choose this Balearic paradise to enjoy a few days of relaxation, entertainment and fun. The main attraction is the island's beaches and coves, with fine white sand that melts into the myriad of blue shades and nuances of the Mediterranean Sea. However, there are many more options for getting the most of your stay on this island.
Sea Sun Ibiza is one of the leading event planning companies in the region. Our company makes our customers' wishes come true, throwing celebrations and parties that are considered to be the best in Ibiza…and the most original. We do so with an exclusive catamaran, a boat with a wealth of details on board where you can celebrate any kind of event: hen/stag parties, wedding cruises, birthday parties, first communions, baptisms, baby showers, etc. Any reason is a great one to spend a unique day in good company with family and friends.
Years of experience speak for our expertise orchestrating all kinds of events and parties aboard the Passion Cat, the name we have given our catamaran. We take care of all the key elements to ensure the success of your personal events, including family celebrations and more intimate gatherings, as well as corporate events for companies and professionals. Sea Sun Ibiza leaves no detail unchecked: the cuisine served during these activities with catering service and cocktail bar included, musical entertainment on-board with DJs or even with bands or entertainers. It all depends on our customers' needs and preferences.
Our destinations